Arne Mikkelson WI 49th Co. G – Arena
Civil War Soldier, Arne Mikkelson was born Dec 7, 1832 Bagn, Sor-Aurdal , Oppland, Norway. On March 18, 1853 he married Ingeborg Monsdatter Olson at Bagn and by March 23, 1853 they were on their way to America. They established their home in Arena township, Iowa County @1857 and had 7 children before "Andrew Michaelson" enlisted on February 23, 1865 in Madison; Company G, Forty-ninth Wisconsin Infantry. His enlistment indicted he had gray eyes, brown hair, fair complexion, 5'5½". He mustered out Nov 8, 1865 at Benton Barracks, St. Louis, Missouri, reaching Madison on November 10, 1865.
The 49th Wisconsin Infantry was organized at Camp Randall in Madison between December 24, 1864, and March 5, 1865. It left the state for St. Louis, Missouri, on March 8, 1865, just a few weeks before the war ended. It moved to Rolla, Missouri, on March 13 where its services included garrison and guard duty until August. It then moved to St. Louis, where it mustered out on November 8, 1865. The regiment lost 54 men during service, all from disease. Remember twice as many Union soldiers died of disease than for battle deaths. Arne was reported as sick June 22-30.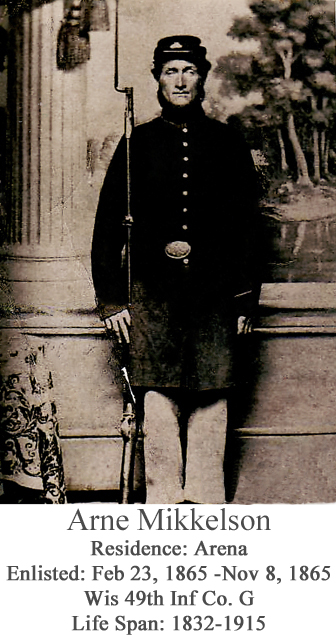 This photo show Arne with his Civil War musket.
The musket is preserved by a descendant of his, Jerry Johnson of Arena.
We can only guess at the hardships Ingeborg had to face left with 6 young children (one had died) and a farm to run while Arne was a soldier. After Arne returned they had 4 more children. Ingeborg died April 10, 1905 and Arne married April 28, 1906 to Caroline Nelson at Vermont, Dane County Wis. Caroline died in 1912, so Arne outlived both wives and at least 4 of his children before he died in 1915 at age 83 years. Son, Martin Mickleson married Barbara Belgium, Michael married Beret Mickleson, Inger married Ole Monson, Andrew married Kare Arneson, Sarah married Martin Mickleson, Ole married Laura Hendrickson, Evelina "Lena" married Carl Anderson and Albert married Tillie Odness. It is certain that he has many descendants, many that live in Iowa and Dane Counties yet. Thanks to Jean Howe Gladem for sharing this information.