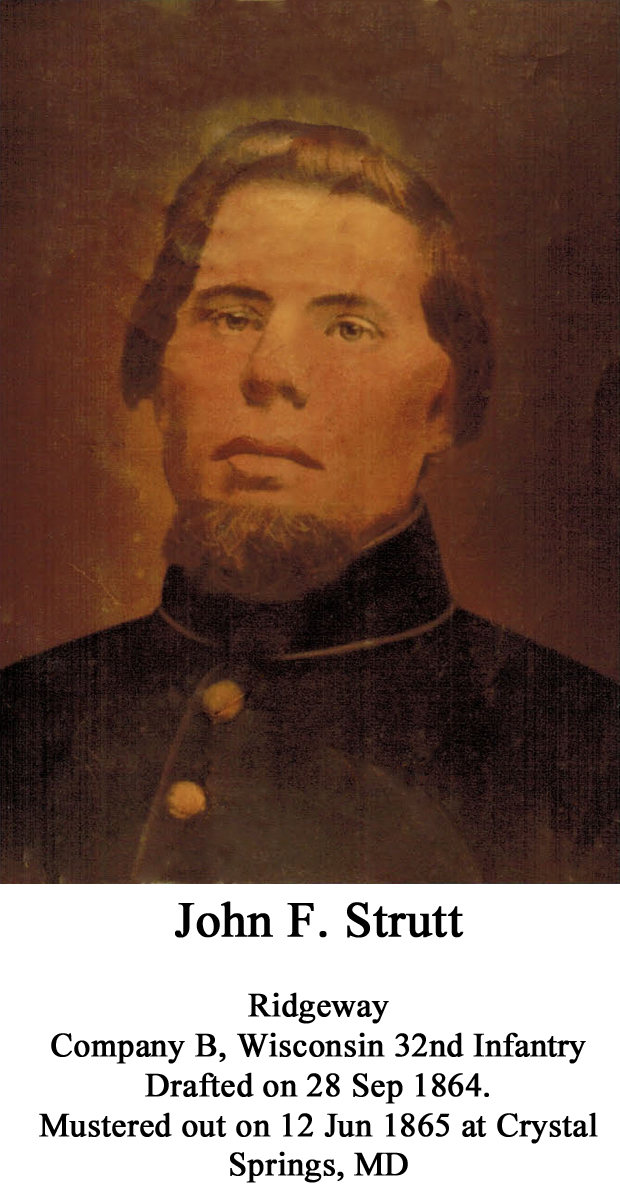 The following was written by John's granddaughter Isabel (Strutt) Hinkins
from Along the Military Ridge to Ridgeway by Melva Phillips.
The Strutts came from Belper, Amber Valley Borough, Derbyshire, England. The Thomas Strutt family came to this country in 1848, first to Janesville, then Albion, and a few years later down the Military Ridge to Ridgeway. Here he bought land from the government and being a stone mason as well as a preacher built imself and family a rock home one quarter mile east of Ridgeway. This stood until torn down when the road was put south of the tracks and was occupied at that time by the Harry Mossey family.
Thomas Strutt and wife had two children, Sarah, who later married Sam Yapp, and John (my grandfather). The latter grew into manhood at a time when the Civil War was grinding dismally into its third and fourth year. Discouraging stories of blood, mud and prison camp drifted back north and, since it was possible to hire someone to fight in your place, many did that, and the hordes of deserters grew.
My grandfather was drafted in 1864 and was one of 200 new recruits to Co. B, 32 Regiment, Wisconsin Infantry. In the group were English, Irish, Scots, Welsh, Germans , French and Norwegians along with a dozen Chippewa Indians. They joined Sherman in the South in September of 1864 when he had just gained a victory at Jonesboro which controlled an important railroad line. Atlanta was now compelled to evacuate. In order to keep it out of Northern hands, tne Confederates blew up 80 cars ol ammunition and the blaze was tremendous. Note: See burning of Atlanta in "Gone with the Wind." By November, Sherman was ready for his march to the Sea. Grandfather Strutt was one of his 50,000 men. This army was divided in a left and right wing and amid almost constant rain, they tore up railroad tracks, burned barns and produce to weaken the Confederacy. It took them 25 days to go the 300 miles. Just their wing alone had 2500 wagons.
With the coming of spring the armies turned northward. Lee surrendered, Lincoln was assassinated and in June the Union armies were disbanded.
John Strutt came home, married an English born girl Mary Ann Cornes and began farming on the very eastern edge of Ridgeway. To them were born four girls: Annie (E. Sherman), Etta (E. Paull) Lucretia (E. Williams) and Mae and four boys: Thomas (1), John (2), James (3), and Albert. My father, (Bert) was married in 1900 to Etta Arthur and they farmed the home place. The three other brothers married and had adjoining farms. When, three decades later, my brother Bill (Harold) married Shirley Paull their family made the fifth generation to farm that land obtained from the government. (It was later sold to the Edle familv).
The grandchildren of John include: Esther, John, Audrey, and Mary; Clifford and Myra; Berniece and Maxine) Harold, Isabel, Marian and Genevieve Strutt and from the daughters, Vila, Earl and Ruth Paull; Melva and Dorothy Williams and Bill Sherman.